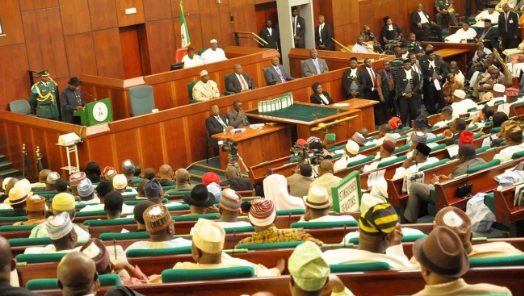 The House of Representatives has mandated its Ad Hoc Committee on Bail-out Funds to investigate non-payment of salaries of Kogi workers and report back within one week.
The House also mandated the Central Bank of Nigeria (CBN) to within one week, report and explain the utilisation of Salary Bail-out Fund given to states.
The directives followed a unanimous adoption of a Motion of Urgent National Importance moved by Sunday Karimi (Kogi-PDP) at the plenary presided by the Speaker, Yakubu Dogara on Tuesday.
Moving the motion, Karim said despite the federal statutory allocation, salary bail-out funds and Paris Club refund received by Kogi Government, non-payment of state and local government workers salaries lingered.
He said Edward Soje, a Director in the Kogi Civil Service Commission committed suicide for not being able to meet his obligations as a father and a husband.
The legislator said the deceased took his life after his wife was delivered of a set of triplets at an Abuja hospital last week.
The lawmaker explained that the late senior civil servant was being owed 11 months salary which made it difficult for him to meet his responsibilities.
According to Karimi, the situation of Soje is the lot of the majority of the civil servants and pensioners in the state.
He expressed concern that the state government had opposed to and refused any authority to investigate the non-payment of staff salaries.
According to Karimi, if nothing is immediately done about the situation in Kogi, more civil servants who were frustrated will commit suicide
In her contribution, Nnkiruka Onyejeocha (Abia-PDP), she said it was sad to see parents who worked for kogi government go several months without pay.
Onyejeocha called on legislators to support the motion and urged the committee to treat the matter with high speed.
Jimoh Olajide (Lagos-APC) commended the Karimi for the motion, adding that the function of government was basically to ensure the welfare and security of the people.
According to Olajide, a situation where civil servants are committing suicide, nobody knows what is next.
The lawmaker, who advised the three tiers of government to be considerate and just, urged Nigerians not to commit suicide, no matter the difficulty.
The House urged the Federal, State and Local Governments to prioritize payment of salaries.
NAN