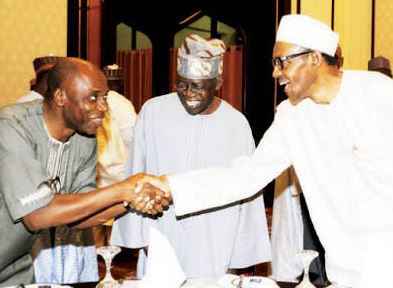 With 2019 general election just 13 months away, it has come to light that President Muhammadu Buhari may have finally thrown his hat into the ring to seek re-election next year by reappointing his Minister of Transportation and former governor of Rivers State, Hon. Rotimi Amaechi, as the Director-General of his 2019 election campaign.
Already, Amaechi, who led Buhari's campaign in 2015, THISDAY gathered, has been issued a letter of appointment for next year's election and would make an official announcement on his appointment anytime soon.
Twice last year, Buhari had hinted at a possible presidential run, albeit subtly. First, he did so during a summit on counter-terrorism in Abidjan, Cote d'Ivoire, and the second time last November, when he visited Kano State on a two-day working visit.
THISDAY gathered that although the president has refused to share his 2019 aspirations with many people, he has however intimated Amaechi of his intention to seek re-election.
Amaechi before the 2015 elections had convinced Buhari, who after losing to former President Goodluck Jonathan in 2011 had said he would not contest for the presidency again, to re-contest in order to stabilise the polity and implement the "change" agenda of the All Progressives Congress (APC).
However, this time around, Buhari was said to have confirmed his intention to run strictly to the "Buharists", a group of loyalists formed by Amaechi and comprises governors of the APC, ministers, party chieftains and some prominent Nigerians, all of whom share the ideals of the group.
Amaechi, THISDAY gathered, formed the Buharists group at the height of growing criticism against the Buhari presidency and convinced its members to alter the narrative against the president.
With the formation of the group, Amaechi was also said to have consulted with critical stakeholders in government, the party and the country, to first seek their buy-in and enjoin them to join the 2019 election bid, which according to sources, is expected to be much tougher than the 2015 contest.
Sources close to the APC also hinted that although a majority of party members are not averse to the president's re-election bid, they have however craved that things be done properly and expect Buhari to reach out to them personally to intimate them of his re-election bid.
According to sources, the National Leader of the APC, Chief Bola Ahmed Tinubu was also believed to have told some of those close to the president that whilst he and his loyalists in the South-west were ready to back Buhari's re-election bid, the condition for their support would be different this time around.
According to one source, the APC chieftain had told those who approached him on Buhari's re-election bid that "let it be known that we supported him in 2015 based on trust. This time, around, we have to negotiate proper agreement".
Although it is almost a fait accompli that the president would run in next year's election, sources in the APC are nonetheless very concerned that the contest will be much tougher due to the disappointment, mistrust and discontent with the administration by a large section of Nigerians.
Accordingly, the Buharists have been reaching out to seek the understanding and cooperation of all that matter, as they forge ahead with Buhari's re-election.
In the meantime, Amaechi, the sources revealed, would hold a press briefing in the next few days to announce his appointment as well as unveil the agenda for the Buhari 2019 project.