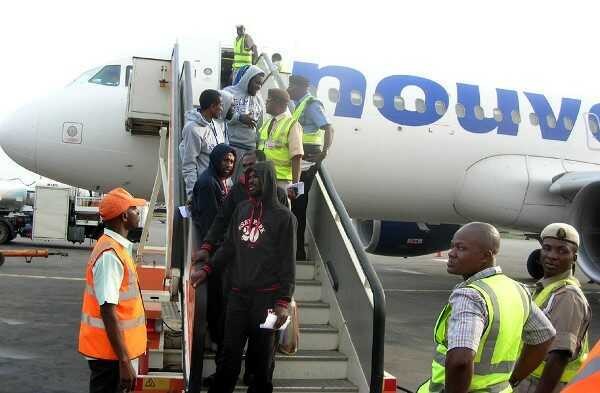 Nigerians returning from Libya have said their fellow Nigerians were involved in the auctioning off of migrants as slaves, Punch reports.
150 Nigerians, mostly from Edo and Delta states, returning after being stranded in Libya, told Punch that they were being sold by their fellow countrymen.
Odion Saliu, a 26-year-old from Edo State, told Punch she was abducted first by the Arabs, then by a Nigerian, who then sold her. She said:
When I was kidnapped with others and held for some weeks, the Arabs asked if I wanted to be taken to a Nigerian and I readily said yes. I was very happy that I was going to someone from my country. But it was a lie.
The Nigerian they took me to locked me in a cell and told me to call my mother and ask for N60, 000. The man said he would sell me to a connection house if my family did not get the money. I called to inform my mother and the trafficker who facilitated my journey from Nigeria.
But the trafficker spoke with them on the phone and told them the amount they demanded was too small. They increased it to N200, 000. My mother paid into an account after they provided her with the account number over the phone.
The Nigerian said if I wanted to cross the sea, I had to pay him again. But when we got to the seaside, he sold me again.
Sunday Anyaegbunam, who left with his wife, said he was sold twice by Nigerians. He eventually had to pay a ransom to have himself and his wife released. He said:
We were made to contact our families on the phone and I had to ensure the payment of N400, 000 for my release and N300, 000 for my wife.
The Nigerians selling people in Libya are more wicked than many of the Arabs. I have never seen people so heartless as the Nigerians who bought and sold me.
There are many of them in Agadez and Sabha, who are making so much money from selling their own people. But there are other West Africans doing the business too.
When you approach them and say, "Please, my brother, help me." They would tell you, "No brother in the jungle."
In a report by The Citizen, the story is the same.

Fotsi, a Cameroonian who left his country in search of greener pastures also fell into the hands of Nigerian slave merchants. He said:
There was torture like I've never seen. They hit you with wooden bats, with iron bars.
They hang you from the ceiling by (your) arms and legs and then throw you down to the floor. They swing you and throw you against the wall, over and over again, ten times.
They are not human beings. They are the devil personified.