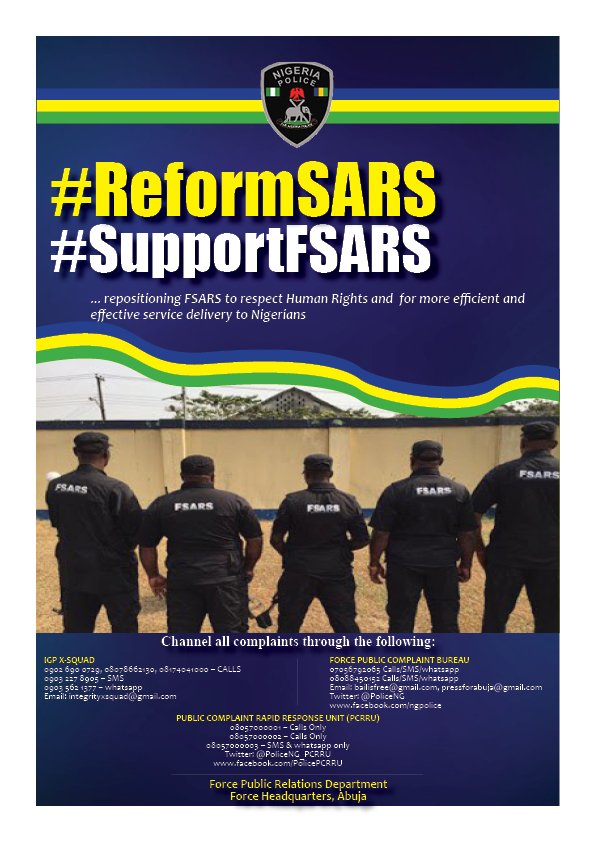 The

Nigerian Police

Force has created a new hashtag in reaction to the #EndSARS movement with which Nigerians have been airing their experiences with the Special Anti-Robbery Squad (SARS).
The

Nigerian Police, in a series of tweet on their official Twitter @PoliceNG, has been publicizing the reorganization of the special squad.
The police, in a statement on their Twitter, has said majority of the officials attached with the squad are good, and the infractions have been by a few.
The account wrote:
The IGP concerned with Public Interest on allegations, complaints & grievances of some members of the public, especially those on Social Media, against the activities of some members of SARS has so far made consequent orders for the rehabilitation & reform of SARS. #ReformSARS
This reorganization was announced four days ago. We are certain that Nigerians have begun to see the impact of these reforms and in the coming days, it would even be more visible. #ReformSARS
Irresective of some infractions from few personnel of SARS who allegedly acted against the ethics of the Police Profession which are now being investigated, majority of Police personnel attached to SARS are good, sound, disciplined and commendable officers. #SupportSARS
We assure the general public that we are sieving out the wheat from the chaff in this regard. #ReformSARS #SupportSARS
We must also highlight that the Federal SARS (FSARS) play a fundamental role in Nigeria's Security architecture. #ReformSARS #SupportSARS
SARS personnel have been primarily instrumental to dropping the previously high rate of crime such as armed robbery across the country; we must not discountenance their good work – which they continue to do. #ReformSARS #SupportSARS
We also commend Nigerians, who out of patriotism, called for these reforms in SARS. Rest assured we are a listening Force working for the good of our country. #ReformSARS #SupportSARS
We call on Nigerians to Support FSARS to become better, and serve the county better. Thank you. #ReformSARS #SupportSARS