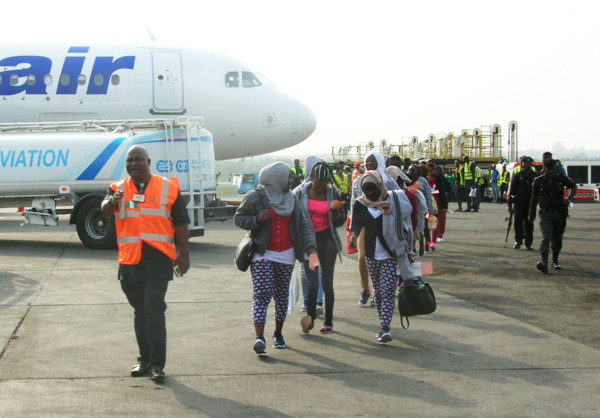 No fewer than 275 Edo State indigenes on Wednesday voluntarily arrived Benin from Libya with the help of the state government.
The Edo Attorney General and commissioner for Justice,

Yinka Omorogbe

told newsmen in Benin that out of the number 58 were girls, 2 infants and 215 boys.
Omorogbe, who is also the chairman of the Edo state task force on human trafficking, said they have received about 1,100 Edo indigenes from Libya between November and December.
She explained that rehabilitation process has commenced through giving them an on-the-spot medical attention to assess the level of their fitness.
She said: "this is the seventh batch that we have so far received. We are going to keep them in the hotel for two nights after which we will reunite them with their families.
"Government has set up a programme to train them in different skills, and those who wish to return to school will be assisted to do so. In addition, government is also paying them monthly stipends for three months."
According to the Attorney General, the problem of illegal migration is an international problem, adding that the state government would continue to rehabilitate those who voluntarily return home.
"A state drafted bill against trafficking in person is currently before the state house of assembly for consideration and passage."
Omorogbe, however, noted that more Edo indigenes were expected in Benin on Friday.