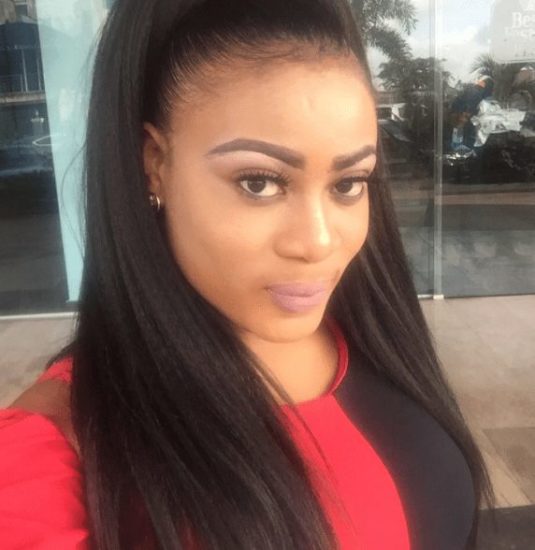 Nigerian actress,

Omalicha Elom

in a new interview with Potpourri, talkes about producing her first movie, sexual harassment, sex, love, etc.
What new projects are you working on?
I'm about to produce my first movie titled 'Marriage Police'.
The storyline revolves around domestic violence, abusive marriages, and other causes of marriage breakups, such as over protectiveness, jealousy and nagging.
Do you agree that actresses are fast taking over movie production?
I think it's becoming a woman's world. The women are out there to take over and make more money. For the upcoming actresses that also venture into movie productions, I think they do it because they are tired of constant sexual harassment from producers.
Producers are always asking for sex or money.
Have you ever been a victim of sexual harassment?
Yes! After I joined AGN in 2011, there was an audition I went for; while auditioning, the producer asked me to play out seducing him. As I was acting it with all my heart, not knowing he had ulterior motives, he grabbed my boobs and I was shocked.
I cautioned him and walked out from his office. After that, I really felt discouraged but I didn't give up. I told my mum and family members and they gave me lots of moral support.
Don't you think its desperate actresses who seduce the producers?
This is very true because some of them feel their body can answer all things. To be honest, some of the so-called Asaba big girls started this act of paying money and offering sex for movie roles because they want to appear in movies by all means.
In Asaba, some girls give producers N100,000, N200,000, just to appear in one or two scenes.
So you agree that there are prostituting actresses in Nollywood?
Yes, there are, and it's quite painful and annoying. However, it's in other places too; in different sectors.
You recently granted an interview where you boldly said you're not ashamed to ask a guy for sex, is this true?
I never said such; the reporter quoted me out of context. How can I boldly ask a guy out or even ask for sex when I am an African, it's not part of us! I said, I have dated only two guys in my life and I am presently single and not in any relationship. I don't know where the reporter got that from. If I really like a guy, I can only imagine him in my head as my boyfriend, but I can't walk up to him to ask for sex. No way! I'm a very romantic type but not crazy.
People say oral sex is dirty, what do you think about it?
I don't know about other people but I don't like it at all. And if your husband wants it? The bible says women should be submissive to their husbands, so if I get married and my husband wants oral sex, I'll give it to him, so I can make heaven.
Would you also give him anal sex?
I can't do that at all. In fact, I know my husband can't be crazy enough to ask me for anal sex when he is not Bobrisky.
Can you forgive a cheating partner?
Never ever! Because once I'm in a relationship, I stay very loyal and faithful. So, I would not even look back when the person cheats on me, be it my husband or boyfriend. Once, you have me, let it be me forever until we part ways. Don't even try to cheat on me.
They say men are polygamous in nature, but it's not right. Before a woman would cheat, something deep must have happened.
I am very spiritual. I don't joke with Church. I always pay my tithes, even when someone gives me money I pay my tithe from it. I make sure I help the less privileged as often as I can. I fast and pray when need be. I might be crazy, but I really love God and everything that concerns Him.
So, what's your take on tithing?
I pay my tithe all the time and I sow seeds, that's why God keeps blessing me. It's in the Bible, I can't remember the Bible verse, but it's there. So you disagree with Daddy Freeze's argument on tithing? Firstly, I don't know who Daddy Freeze is and I don't care to know. All I know is that people should pay their tithes and allow God to bless them abundantly.