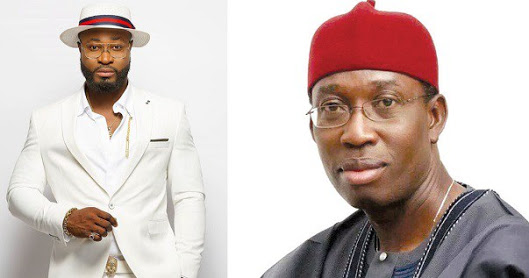 Singer

Harrysong, some days back called out the Governor of Delta state,

Ifeanyi Okowa, he accused him of not being a good leader.

Harrysong

lamented the incessant communal clashes in Delta State without the government doing anything decisive to stop the wanton loss of lives.
He stated, "I woke (up) this morning highly infuriated and troubled about how much Nigerian politicians have raped this country without a conscience. Even my state governor, Sen.

Ifeanyi Okowa, is worse. Aladja and my community, Ogbe Ijaw, have been killing one anotherfor years and Okowa is rather playing a businessman than a father and a leader he is meant to be. Come 2019, we need leaders, not politicians."
In an exclusive chat with Sunday Scoop,

Harrysong

said some more about the issue.

"It is a cause that we are fighting but we don't want to say anything now. I'm going to Delta State on Sunday (today), and I'm going to bring back the final report that we can now talk about.
The thing is trending, and everybody has been calling me both from the state and outside. I will go to both communities that are fighting, and I will make sure that I meet with the authorities concerned. It is not an easy cause but we will face it till the end," he said.
Situating the place of artistes as vanguards of the people,

Harrysong

said,
"Entertainers are the voices of the people, both in melody and in words. I think entertainers should speak up in cases like this because the world would hear us quicker and listen to us better because we are role models to a lot of people.
"The roles that we play in the lives of young people and the society at large cannot be overstated. We should speak up for our states, country and the world in general. Every purposeful entertainer should stand for their people to make their voices heard in the necessary places."
Meanwhile, in response to

Harrysong's claims, the Delta State Government urged the Arabanko singer to visit the state often.
"Harrysong

is our son and we are proud of his achievements but communal clashes have to be handled tactfully. We are talking about communal clashes and not music. The governor is trying his best to settle the aggrieved parties and as we speak, all hands are on deck in this regard. We are not folding our hands and keeping quiet," the governor's spokesman, Ehiedu Aniagwu, told an online newspaper.
However, talking about his current projects,

Harrysong

told Sunday Scoop about what he's doing at the moment. "The Kingmaker album has been released and that is what we're promoting right now. We are also shooting the last video to wrap up the year, for the song, Ele. The shoot will be done next week," he said.