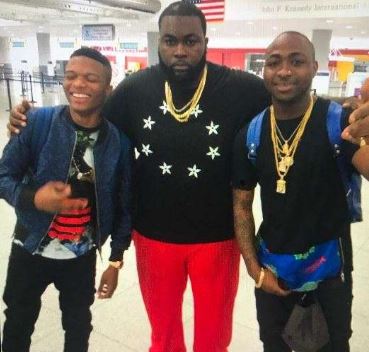 No matter what country he goes to in Africa, whether it's in Guinea, Nigeria, Mozambique, Botswana, Kenya or Sierra Leone, pop star

Davido

gets the same reaction: teeming crowds and adoring fans.
The 24-year-old icon is one of the favourites for Best Artist at this year's All Africa Music Awards (AFRIMA), which takes place in Lagos this weekend.
AFRIMA, sponsored by the African Union, is Africa's equivalent of the American Grammy Awards, with interest reflecting the continent's rich seam of emerging talent.
Davido

(Nigeria),

Wizkid

(Nigeria), Diamond Platnumz (Tanzania), Sarkodie (Ghana) and DJ Arafat (Ivory Coast) are leading a musical revolution: Afrobeats.
The genre was born in Nigeria but has spread across Africa as fast as the rhythm of the bass in a nightclub.
Videojournalist Hugo Claveau, who wrote and directed the documentary, "Afrobeats, From Nigeria to the World", told AFP:
"Nigerians knew how to mix all the influences of Afropop: Congolese soukous, Ivorian coupe-decale, Ghanaian Highlife, Jamaican dancehall. They created a sound for all of Africa. They created the first pan-African music."
Banning Eyre, an African music specialist, added:
"It's very interesting for me, because it's totally different from what we've seen in the African scene for the past 30 years."
Afrobeats, a name given in homage to the Afrobeat of the 1970s, was born about 10 years ago with pioneers such as 2Face, D'Banj and P-Square.
The internet and satellite television channels did the rest.
Efe Omorogbe, 2Face's manager and the head of the Now Muzik Limited label said:
"Music channels like MTV or Channel O made a big impact on exporting Nigerian music. For the first time you could sit at home in South Africa and you see the best of Nigerian artists."
In its wake came the French channel TRACE, which in turn led to TRACE Naija two years ago, where Nigerian music accounts for about 60 percent of its output.
TRACE Africa is one of the most popular channels in French-speaking Africa and about a third of its programming is exclusively Nigerian.
Omorogbe said the channels "broke the boundaries. Now Africa makes one boundary, not 53".
The increase in festivals and events such as AFRIMA has equally allowed artists to meet, exchange ideas and collaborate.
Wizkid, for example, sings on My Soweto Baby with the South African DJ Buckz.
Ivory Coast's DJ Arafat and Nigerian Iyanya use their song Fever to call on "Abidjan, Cote d'Ivoire, Nigeria" to dance together.
The internet has again been a game-changer.
Kenyan Afro-pop star "Sauti Sol sent me a beat and I liked it, I thought it was cool," said Kritzbeatz, a 22-year-old Nigerian music producer.
"So I did a mix with my sound and now we have 'Whine for me'. He came to Lagos for an event, so we took this opportunity to shoot the video clip."
Huge market
African pop stars are fighting among themselves to work with Nigerians in hope of breaking into a huge market of nearly 190 million people, where pop music is ever-present.
Oris Aigbokhaevbolo, a journalist with the Music in Africa magazine, said:
"Smaller markets naturally look towards Nigeria. Tanzanians can't afford to do music for the Tanzanian market only. But Nigerians are very proud of their music and very resistant to what's coming from the outside."
In Nigeria, music is business, where sponsors and patrons can invest hundreds of thousands of dollars to finance a concert.
By signing

Wizkid,

Davido

or D'Banj, record labels Sony and Universal are finally turning towards African pop music instead of the "world music" of Salif Keita or Youssou N'Dour to conquer the African market.
The financial rewards are considerable.
Claveau said:
"There are all falling over themselves to sign contracts with Nigerian artists. But the guys developed their business by themselves. They conquered the continent and don't need them to fill stadiums in Africa.
What they want now is export themselves to the United States or Europe but for that the main players are still timid."