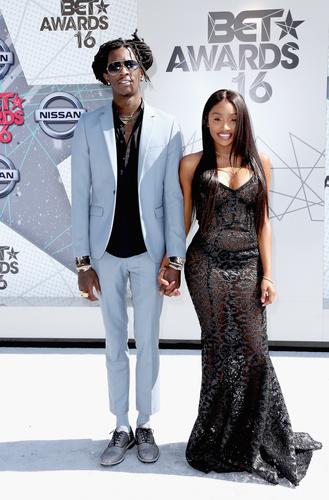 Welp,
Young Thug
and Jerikka Karlae do not appear any closer to getting back together. The ATLien has been making news headlines, not for leaked music as tends to be the case with Thugger, but for a cheating/sidechick scandal. It all started when Jerrika Karlae, Thug's long-time fiancee, began exposing Thug's sideline activities on her Snapchat after apparently going through the rapper's phone. From there, Thug made a minor response, of sorts, when he took to Instagram to say "why cheat when you can creep." It was quiet for a minute, but things have started to bubble up again. In a video posted to his Instagram Story yesterday, Thug addressed his once-bae publicly, pleading with her to give him one more chance, asking the public to do the same on his behalf.
"Babe, give me a chance, I promise I won't mess up no more. Everybody tell her to give me one chance. Tell her to give me one more chance and I promise I won't mess up ever again. I promise," Thugger says to the camera. He added: "It wasn't even my fault. Like, six n*ggas be using that phone, man. All that stuff, you tripping. You crazy."
Perhaps the two had words in a private sphere after this video hit the Gram, it's pretty unclear how Thug went from a kinda-sorta-apology video to, very shortly after, threatening Jerrika via twitter. On October 4th (so the same day all this news started hitting the blogosphere), Jerrika Karlae took to twitter to announce her singledom, tweeting, "I'm definitely back on the market tho," with a kiss emoji. After releasing his plea for his fiancee's return, Thug decided to quote Jerrika's tweet with a response for all his followers to see– a scathing one, at that.