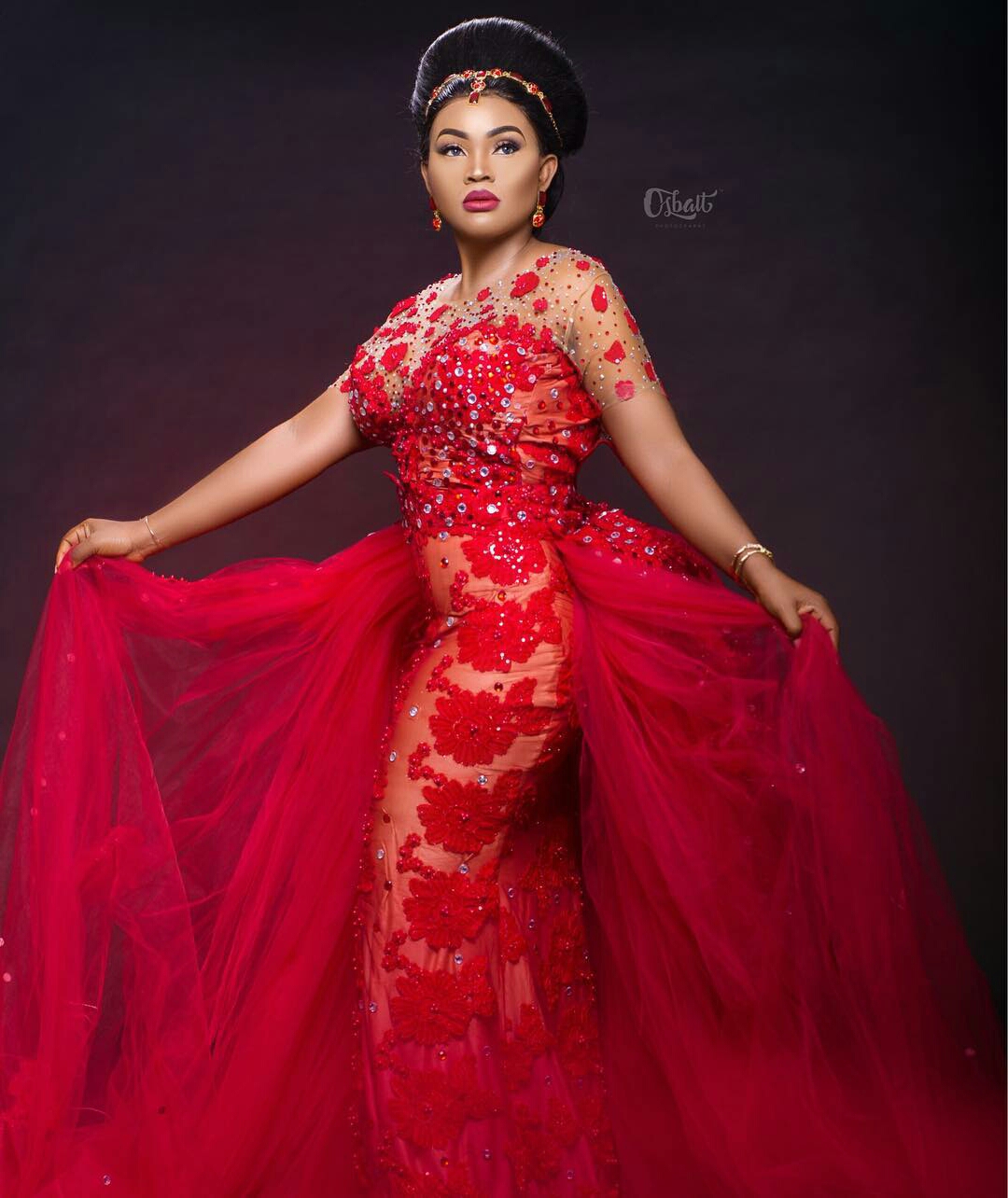 Nollywood actress

Mercy Aigbe

hit the big 40 today and to celebrate, she shared stunning photos of herself in a piece by designer, Rikaotobyme.
However, things took a different turn when Instagram user @rettypety accused the designer of styling the actress with her wedding dress.
In an Instagram post, she shared screenshots of her chat with the said designer. She also explained how she provided the material for the outfit and also gave the idea for how she wanted the dress, only for the designer to disappoint on her wedding day.
She was therefore shocked when she saw the said outfit on

Mercy Aigbe

for her birthday shoot.
She wrote:
This was too bad. On the 29th of December 2017 which happens to be a day to my wedding, a greedy designer decided to ruin my big day. I cried all day no stop. I bought this lovely fabric from @bshani_bridalfbrics and asked her to deliver to this designer @rikaotobyme after I had concluded the style and price with @rikaotobyme I made a 50% payment to her as soon the fabric got to her. Told her its my wedding reception dress she assured me it will be ready on 26th. on that 26th i chatted her up to ask for my dress she replied saying it was ready as u can see on the chat above, she also said she will send a pics, eventually now sent a video d next day which was 27th u can also see that on the chat above. I sent the balance 50% to her on 28th when I had seen the dress and was satisfied, she couldn't send that day cos all flights coming to Benin that day were cancelled. So we were now left with 29th a day to my wedding, I called her by 6am that morning and she told me d delivery Guy has gone to d park to send my dress that she will send the waybill details(sending details ) across shortly. I waited till 9am no words from her. i started calling to ask for the waybill details she wasn't taking my calls, atimes she even cut the calls. I sent several messages no response at 1pm I started crying cos the situation got beyond my control. My hubby,friends and family requested for the number and also started calling her but she obviously decided not to take any calls again. Until 4pm when I was drained in tears she then called and was apologising that she didn't know what to say to me that y she refuse taking calls, she continued saying the delivery guy she gave my dress to is no where to be found. when she heard how I was crying she then suggested to give me one of her old dresses for me to use for the day, I had no choice cos I was desperate I then accepted it.i got d dress on my wedding morning. I went on IG yesterdy only to see @realmercyaigbe wearing my dress with the same fabric I bought and she tagged same designer @rikaotobyme. how much did she pay u to disappoint a bride on her wedding day? U are heartlessly wicked and u will sure not get away with this @rikaotobyme
She also shared a video the designer sent of her dress when it was ready: