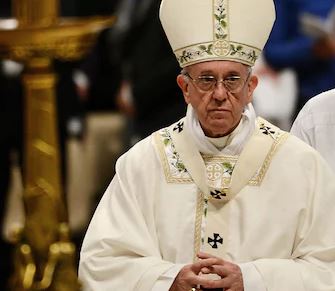 Catholic Pontiff, Pope Francis on Sunday prayed for freedom of six Catholic nuns kidnapped about a month ago near Benin City, the Capital of Edo State in Southern Nigeria.
"From the heart, I unite myself to the appeal of the bishops of Nigeria for the liberation of the six Sisters of the Eucharistic Heart of Jesus, kidnapped roughly a month ago from the convent in Iguoriakhi," the Pope said.
"I pray with insistence for them, and for all the other people who find themselves in this painful situation.
"May they, on the occasion of Christmas, finally return to their homes," he added as he later led the crowd in praying the Hail Mary for the missing nuns.
The nuns by gunmen on Nov. 13 included three professed sisters – Sister Roseline Isiocha, Sister Aloysius Ajayi and Sister Frances Udi, along with three aspirants ( young women in the process of formation to join the community)
The Conference of Major Superiors in Nigeria, the nation's main umbrella group for Catholic religious orders, called for setting aside Dec. 2 as a day of prayer for the sisters' release.
The Catholic Bishops' Conference had in a statement issued last Friday said, "agents of darkness continue to hold our people to ransom through kidnapping, armed robbery and other dehumanizing activities."
"We are saddened and pained by the continued detention of our daughters, the Sisters of the Eucharistic Heart of Jesus, who were kidnapped almost a month ago in their convent in Iguoriakhi, near Benin City."