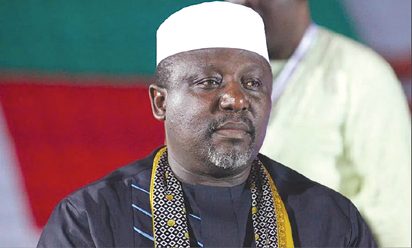 Officers with the Nigerian Police, Imo State Command, on Monday attacked citizens of the state protesting the governor

Rochas Okorocha, Premium Times reports.
The protesters, with the Imo People's Action for Democracy, (IPAD), said they were attacked by policemen along Wethral road, Owerri, as they began marching.
They said they were protesting against the policies of the governor, against bad governance.
They decried the erection of statues in the state while the governor still owed salaries, and the installment of Okorocha's sister,

Ogechi Ololo,

as Commissioner for Happiness and Purpose Fulfillment. They said:
We peacefully commenced our protest this morning from Wethral Road Roundabout in Owerri, Imo State, and were accosted by heavily armed policemen who demanded we stop because the commissioner of police did not approve the rally.
We insisted that we must continue since the law did not say we needed his permission before we could embark on a peaceful protest. As we continued our match, the police descended on us and started beating up the protesters, firing tear gas, confiscated our placards and manhandled even the minors amongst us.
We wish to inform the world that Imo State has unfortunately become a fascist state where freedom of expression and assembly is no longer guaranteed.
We say this because of the ugly incident that happened this morning where the Imo State government used the police to brutally attack peaceful protesters.
Today is really a sad day for our democracy. Imo State has been turned into a terror zone. Governor

Rochas Okorocha

is now a full-blown dictator and he has as his accomplice the Imo State Police Commissioner, Mr. Chris Ezike, who is always ready to do his dirty jobs.
We will in no distant time mobilise Imolites for a massive protest that will bring the government to its knees.
The police, however, said the march amounted to "unlawful assembly" as they failed to get a permit before proceeding.
Spokesperson of the Imo State Police Command Andrew Enwerem added that "teargas is for human beings and not for animals." He said:
The duty of Police is to ensure security of lives and property, if they found themselves in friction with Police that is not out of place.
Teargas is meant for human beings and not meant for animals. Before you protest you must get permission to March otherwise that will amount to unlawful assembly.