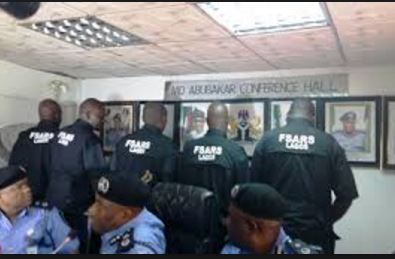 The NPF and its management being a responsible and a responsive institution has monitored various concerns generated.
The concerns & Counter agitation & painstakingly appropriated this valuable inputs from the Nigeria populace in line our democratic policing
The NPF in it proactive demonstration of its sensitives to the yearnings & demands of modern policing has emplaced the underlisted measures.
To stem the remote concerns generated by perceived inadequacies of the

SARSOperatives
The designation of the Deputy Inspector General of Police (DIG) Operations to lead

SARS

as the Strategic Commander.
The appointment of a Commissioner of Police as a field Commander of all activities related to

SARS.
All

SARS

Operatives are answerable to the DIG Operations through the CP FSARS and Commissioners of Police of the Commands.
The direct supervision of

SARS

operation in each state command under the Commissioner of Police in charge of the state via the DCP / ACP ops
Psychometric test, training and continue assessment of operatives deployed to

SARS

to determine the suitability
SARS

role in keeping with acceptable standard operating procedure
The sole mandate to prevent, confront and solve cases related to aimed robbery and other violent crimes.
Prohibition from conducting stop and search on roads unless when necessary.
Prohibition of

SARS

Operatives to act as body-body-guards, delving into land matters, personal disputes, debt collection & civil matters.
Embark on operations only on the permission of the CP

SARS

and /or DCPs/ACPs Operations in the Commands they are answerable to,
Operate in official uniform clearly marked for identification.
Operations to be conducted in a non-disciplinary, proportionary, fair and accountable manner.
The NPF operations shall strictly guided by the human rights principles as enshrined under the UN Charters on human rights.
SARS

Operations henceforth shall be monitored by the monitoring units and X-Squad and other oversight units of the Force.
Nigeria citizens are encouraged to avail the police ways to improve

SARSOperations, across the nation.
Thank you most sincerely, for your partnership and support to the Nigeria Police Force.