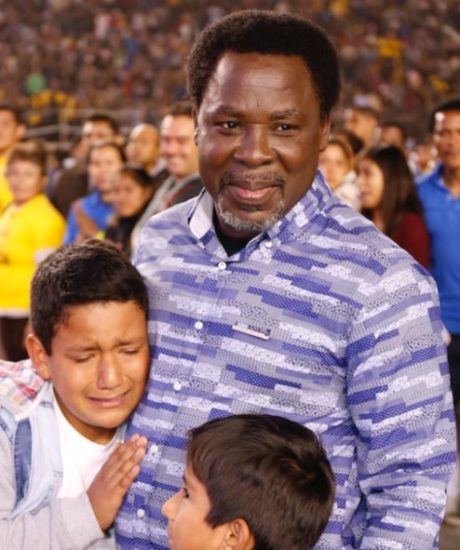 Nigerian Prophet T.B. Joshua has shared his thoughts on the cause of poverty all around the world. He revealed this in a Facebook message he shared to his fans and followers.
"The beauty of life does not depend on how happy you are but on how happy others can be because of you," Joshua began in a somber statement he released to Facebook.


Using the Scriptural reference of 1 Corinthians 13:13, he further explained, "The manner you love your neighbour determines the measure of your relationship with God."

The cleric explained that even those who are materially wealthy are often filled with complaints because they are keeping their wealth, rather than sharing it with others.

"You are rich but you are still complaining – as if you have nothing… You have money yet unanswered questions in your life. You are a president but anytime you are in private, you cry for what you do not have."
In his words, the solution can only lie in reaching out to 'find' those who you can help.

"Possessions do not bless when we keep them. Money does not bless when we keep them in the safe but giving them to help the poor, needy, refugees and others, can. We use money to get what we need but when we keep it, it becomes dormant as if we do not have," Joshua wrote.


Speaking bluntly, the cleric – who is known for his extensive humanitarian gestures – pinpointed that:

"The cause of poverty and hardship is because we have not been giving to help others. We keep our possessions and save our money. We say there is not money but money is everywhere. The cause of poverty is because our money is not being circulated."


Concluding, Joshua called on people to 'build' their lives around the principles of love and charity in order to effectively deal with poverty.

"You are blessed to bless others but you are blessed and not blessing others – that is the cause of poverty. Therefore, build your life around your contribution to others, for that is the beauty of life," he said.
The cleric's message was reiterated during the activities of the annual Christmas Carol Service held at The Synagogue, Church Of All Nations (SCOAN) on Friday 22nd December 2017 and broadcast via Joshua's channel Emmanuel TV.