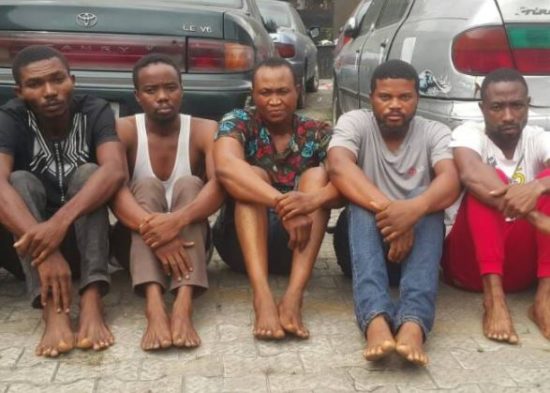 Sequel to the Kidnapping of Mr Ubani Onyema 64yrs, A production manager in Niger Delta Petroleum Resources based in Port Harcourt by unknown Gun Men in Woji PH on 16/10/17. A ransom call was made to the Hostage's company demanding 100 million naira, but was eventually Negotiated down to N10 million which was paid to the Kidnappers despite not getting a proof of life.
IRT operatives deployed to Port Harcourt by IGP Ibrahim Idris swung into immediate action As the hostage was not released after the ransom was paid as Negotiated and agreed. Unrelenting Follow up by the IRT Team eventually led to the arrest of seven (7) Of the Kidnappers.
Suspects confessed to various roles each played in the kidnap, and admitted that the hostage, Ubani Onyema, died on the very day of his kidnap as a result of gun shot wounds he sustained during the kidnapping and they still went ahead to collect a ransom of 10 million.
Suspects names and roles played as Confessed are as follows: 1) Nduka Alaribe AKA Abiola 'm' 34 Gang Leader, organised the kidnap, recruited the hostage keepers, brought the two cars used for the kidnap, led gang members to pick up the ransom. 2) Godstime Eme 'm' 35 the second in command, a university graduate, he purchased the pre-registered sim which he used in negotiating for ransom and picked up the ransom.
Also monitored the movement of late Ubani Onyema on the day of his kidnap. 3) Nkere Uwam 'm' 38, the mastermind behind the kidnap, who also worked in the same company with the victim. 4) Wisdom Uchechi Chidi 'm' 35, a notorious leader of Greenlanders cult terrorising Ahoda-East LGA provided the arms used in the kidnap. 5) Ayakazi Woyin-Kuro 'm' 32, assisted in the recruitment of gang members. 6) Okpako Emperor 'm' 37 also worked in the company was part of the plot to kidnap Ubani. 7) Adimibe Kanayo 'm' 30 also worked in the company was part of the plot to kidnap Ubani.
Items recovered includes 1 AK47 Rifle and the two(2) vehicles used in the kidnap. Effort is ongoing to arrest other fleeing gang members, recover remaining arms and the body of the Victim which they confessed to have dropped into the river.