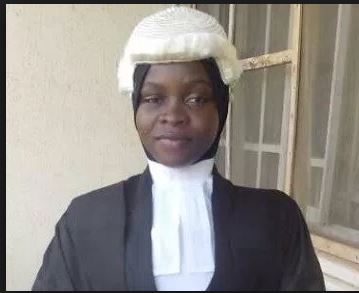 It is first of all appalling and disheartening that a matter of a religious attire like this Hijab could cause unnecessary heat. It shows how we've allowed our backwardness in this country to come to stay. This issue came up and immediately everybody became lawyers and readers of a constitution that seem to be lost before.
Where were you all and the citation of Sections and subsections when Kayode Bello was expelled from that same Law School for expressing his grievances over the poor welfare and exploitation in the School; something your newly found defiant heroine could not cough at, even when it is evident that all students are victims of the exploitation. She wasn't brave enough to lend her voice to that issue right?.
Everyone has the right to express themselves at the time they wish, I agree. But our lives start to end the day we keep quiet in the face of things that matter to us (the general populace). Religion to the best of my knowledge remains a personal thing.
Kayode was 'bundled' out of campus, brutalized and arrested. He was denied exams. He went to Court, won and served the school the order. But until today, the Law School has not obeyed the order. There was no Section 39 of our Constitution then! In fact, we all did not know what a Constitution is.
We didn't know 'Contempt'. He missed the exams, wasn't called to Bar eventually and till today remains expelled. We did not see e-fliers distributed around asking for his number so as to wade into the matter by Senior lawyers. There was no solidarity from CAN or even MURIC. No emergency press conferences like we are having now.
Isn't it nauseating that in a multi-religious, supposedly secular country and a secular institution, at a secular 2-hour ceremony, there is a matter of one scarf and everybody wants to shine with it? Would you just imagine how the hall would look like if everyone was allowed to put on their religious faith ornaments? You would be surprised to see a Sango worshipper with braided hair. Remember Nigeria is not Saudi Arabia. It is not ruled by a King.
With the look of things, the volume of misplaced priorities and the level of ignorance in the air, our Court sessions would start with Christian prayer and end with the Islamic prayer someday. You would walk into the courtroom and see a lawyer who is a member of the Lord Chosen Charismatic Ministries with his 'lemon vest', a Catholic, with the crucifix. The Jewish attire would be worn by the followers (lawyers) of 'Nnamdi Kanu'.
That day, our madness as a people would be certified, signed, sealed and delivered.
It is, however, a neocolonial psychological issue, even with the NBA President, to think because people are allowed to wear the scarf in the UK or USA makes it necessary that we accept it in our professional terrain. 'Who is Nigeria to forbid what the West accepts?'- very faulty thinking. Let me ask you about the gay rights. Did we accept because the USA legalized it?
Any 'educated' person, apart from the widely known one in UNILAG who thinks in this line is another waste to the society. Every sovereign society has her own uniqueness and the people must be in charge, fully of their affairs economically, politically and socially.
That's the self-determination you yearn for every time. The Atlantic Charter of Roosevelt and Churchill stated it too. When are we going to be in charge of our lives?
Very funny how everyone suddenly found the Constitution and can now cite Section 38 effortlessly: 'Every person shall be entitled to freedom of thought, conscience, and religion, including freedom to change his religion or belief, and freedom (either alone or in community with others, and in public or in private) to manifest and propagate his religion or belief in worship, teaching, practice, and OBSERVANCE'.
Take note of every word in this section especially OBSERVANCE. This is also the section that would provide that a nurse who is a Cherubim and Seraphim member could wear her 'aso isegun' to the hospital on Holy Micheal Day. She could even spray 'turari isegun' (incense) in the ward. All these are still in observance of the statutes of her religion. So, NO CASE!
A Celestial member also can walk barefooted to the Court or as a Doctor to the theater, for surgical procedures. Section 38 is still at work.
Do we not say that the Constitution remains supreme. 'Bigger' than professional ethics right? We embrace the undue frenzy of religiosity at the risk of our lives.
Dear Firdaus, I make bold to say that the God you serve with the wearing of your hijab shall see you through and make you victorious. You do not have to seek redress in the Court of law because it is even a secular establishment.
Adeyeye Olorunfemi, student activist writes from Lagos.