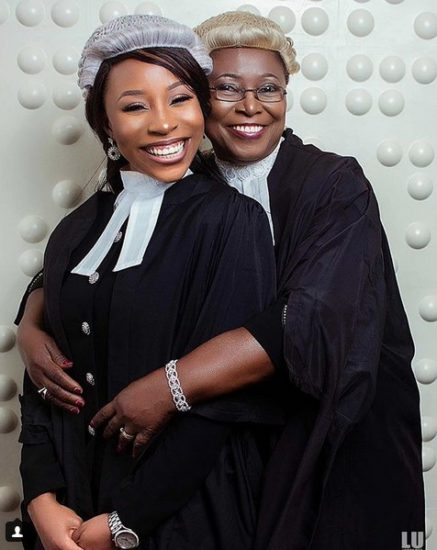 A 25-year-old lady, Kaka Eva-Offiah who was recently Called to Bar has shared her story how she was inspired by her mother 23 years ago as she was the then Commissioner for Justice and Attorney General Enugu State. The excited young lady whose name was announced by her mother during her Call to Bar – took to her social media page to share the lovely story…
23years ago, my mother, then Commissioner for Justice and Attorney General Enugu State, drove to court early one morning. She didn't realize that a tiny 2year old was crouched down behind the driver's seat, clad in her pjs and soggy nappies. You see, I've been said to be very attached to my Mommybear.
And I couldn't understand why she had to leave me every morning. She mostly let me go out with her except in the mornings, but that day, I wasn't having it. I crawled into the car while it was being cleaned and hid in there(I still wonder how she didn't see me). My unsuspecting mother got to the Court of Appeal, and hurried in. I waited in the car for what seemed like forever, still crouched down in my hiding position. After realizing that my plan wasn't working out as I thought it would, I opened the door and got out of the car.
The court building was huge. Little me in my now heavy nappies and onesie pjs ran into the nearest entrance screaming "Moommmmmy" at the top of my voice. I didn't know where to look. Some kind people(then enemies trying to keep me away from my beloved mother) tried to hold me and help me find my mom, I scratched at them and escaped. I kept screaming for my Mommybear and wandering around the building.
She must have heard me cause next thing, a shocked looking Mommybear dashed out of some nearby court room. Ah. The way I ran to her. She was still in shock as she picked me up and my then dripping nappies stained her court gown. She soothed me and carried me back into the courtroom with her. She must have gone to get an adjournment because….
Today, less than 24hours after my call, I appeared in court with my Mommybear. Not as a howling 2year old in soggy nappies, but as her colleague, robed in a wig and a gown.
I had the rare privilege of having my first appearance in court less than 24hours after my call at the Supreme Court of Nigeria, and the rare privilege of being announced in court by the first female SAN of the South-Eastern Region, former Attorney General and Commissioner of Justice Enugu State, former NBA Chairman and Body of Bencher,but most importantly, my Mommybear"