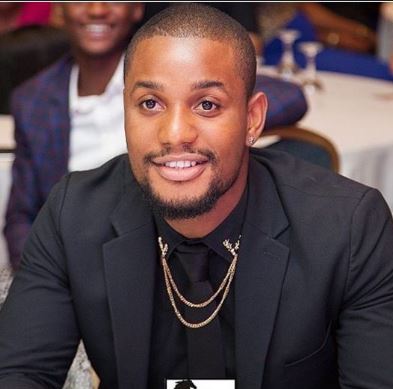 So a prolonged argument between

Alex Ekubo

and his celebrity friends extended to Instagram and the Nigerian actor and model used the caption to insult Yomi Casual

In a very hilarious manner.
According to his Instagram post:
Just take a moment & look at this Burnt offering called Yomi that is doing his face like lizard that licked lime, sometimes i wonder how i even pick my friends, how can 1 person possess blackness allocated to 6 people.
Yomi is so black he stepped into a jacuzzi & the water turned to coffee, Yomi is sooo black he bleeds smoke, Yomi is so black Sars shot him & the bullet came back with flashlights saying "i can't find him", Yomi is soo black he leaves fingerprint on Charcoal, Yomi is soo black when he goes out during the day the street light come on, Yomi is so black he was riding a bicycle & got a ticket for tinted windows, Yomi is so black after he was born, the doctor looked at him & said "poo happens", Yomi is so black when God said let there be light, he turned to him & repeated i said "let there be light, that means you gotta leave".
On this note note i'm leaving your disrespectful burnt toast back of pot shoe polish coal tar looking face in 2017. .
Ik Ogbonna, you're next in Line, you bald headed Orangutan Reptile looking Iguana Alien vs Predator headed millipede.
AYO MAKUN'S (AY) Comment: @Yomiscasual He will return, Just take it to the bank from of the Makun Brothers. Pls supporters of Alex gather your generation and begin to protect every existing space around u. This fall go baaddddddddd..
Check his Instagram Post Below: