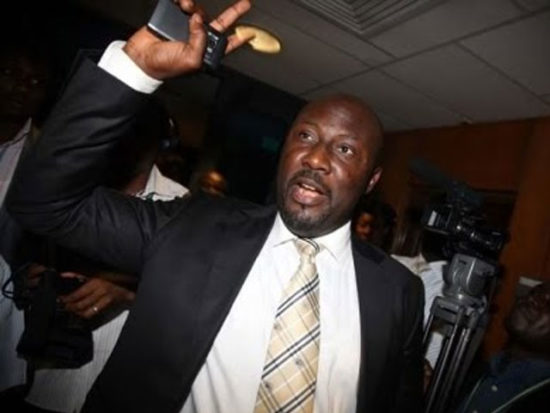 Thugs Launched Attack With Stones, Sticks on

Dino Melaye's In Kogi

In the early hours of saturday, leaving the senators car damaged.
Dino Melaye, a representative of Kogi West Senatorial District went for the Kabba Day celebration in the State, when the incident occured.
Melaye, who arrived at the venue at about 11am, was welcomed by a mammoth crowd as he was seen snapping pictures with supporters.
The Senator was then invited to make comments and announce his donation before the arrival of Governor Yahaya Bello, who was already in Kabba for the occasion.
Shortly after he announced a donation of N3m, Melaye headed for his car, and some thugs started throwing stones and other missiles at him as he made for his Mercedes Benz G-wagon.
The security men resorted to using tear gas to bring the situation under control.
Meanwhile, all the security apparatus of the state governor, led by his Aide-De-Camp and the chief details, were at the venue ahead of the governor, who was expected to grace the occasion.
Our correspondent gathered that the governor refused to show up for the programme after learning of Melaye's attack, and instead sent his donation of N20m on behalf of the state government.
The swift intervention of security personnel on the ground saved the day as one of the thugs was arrested and whisked away in a van with number plate PS 300 A/0.
Meanwhile, Melaye has alleged that Governor Yahaya Bello knew about the attack on him.
A statement by his Special Adviser on Media, Gideon Ayodele, which confirmed the attack on the lawmaker, however, claimed that his "superlative" outing at the event might have angered Bello and the Kogi State Government officials at the venue.