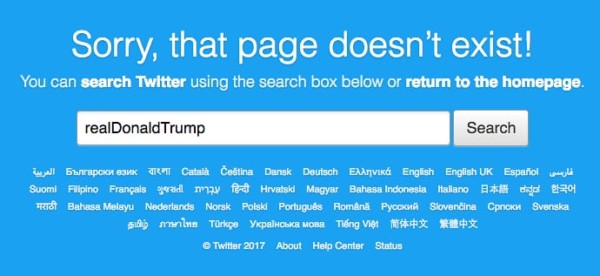 The United States President
Donald Trump
on Thursday had his Twitter account temporarily deactivated by a Twitter employee.
Trump's account was down for about 11 minutes, causing people to speculate he had deleted his account or had been hacked.
A visit to the @realDonaldTrump profile would result in the "Sorry this page doesn't exist!" page.
After the account came back on, Twitter released a statement saying:
Earlier today @realdonaldtrump's account was inadvertently deactivated due to human error by a Twitter employee. The account was down for 11 minutes, and has since been restored. We are continuing to investigate and are taking steps to prevent this from happening again.
Soon after, the @TwitterGov account released another statement saying the account had been deleted by an employee on his last day, possibly meaning it was done on purpose.
The statement read: "
Through our investigation we have learned that this was done by a Twitter customer support employee who did this on the employee's last day. We are conducting a full internal review."
Donald Trump
soon returned, tweeting about the Republican Party's tax cuts plan.
Twitter has said it is conducting a full internal review on the issue.