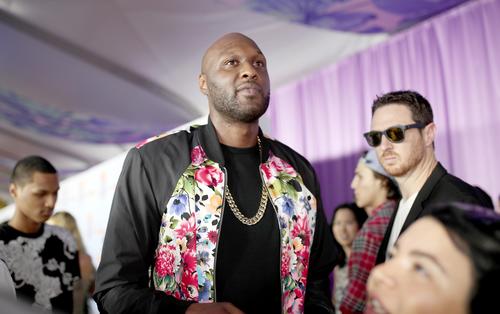 Early Sunday morning, former NBA star Lamar collapsed at his VIP table at a Los Angeles nightclub at sometime around 2 a.m. It was while at the Bootsy Bellow venue on Sunset Strip that staff and patrons of the club witness the 6 ft. 10 in. Odom collapse to the ground before security quickly rushed to the scene to help him.
In the clip, he is conscious, and the person from which the clip originated said that they observed Lamar Odom drinking for several hours before collapsing. A spokesperson for Lamar has since come forward with a statement, saying that two-time NBA champion is "doing well."
"He was dehydrated and had been in an intense workout earlier in the day," they continued. "It was also very hot in the club."
The incident was certainly cause for concern considering Odom's volatile history with substance abuse, coming close to death in October of 2015 after suffering two heart attacks and 12 strokes.
"That night I didn't do any coke or anything like that. So, I was kind of confused how I got like that," he remarked in an interview earlier in the year. "I didn't know until… Khloe had told me that I was in a coma. I couldn't even speak at the time. I couldn't talk. So, I was scared… I wasn't in a good place mentally before that incident happened. Me and my wife at the time were going through some things and I was in a dark place."
He's also gone on to reveal that he was on a path to sobriety after leaving a 30-day in-patient rehabilitation program. "I'm a walking miracle. I had no choice but to become stronger," he told US Weekly. "I'm here talking to you. So, I guess I'm winning." "Living sober, meaning no drugs, is a great feeling. Being in the moment is important—how you react, respond, create."