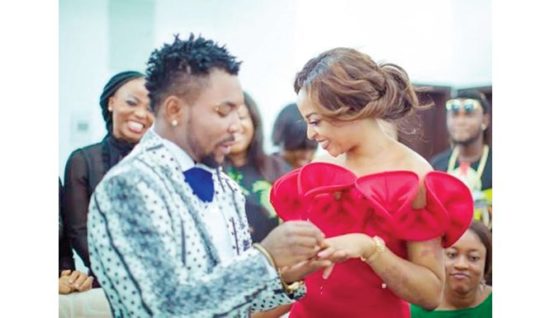 Singer, Oristefemi Majemite Ekele, otherwise known as Oristefemi, speaks with OLUSHOLA RICKETTS about his music career, controversies, finding a wife and why he is in support of one Nigeria
How did your recent tour go?
It was a world tour and it went well. I had the opportunity to visit places that I'd never travelled to and I also revisited some places. The essence of the tour was to export our music to other parts of the world. As we speak now, Afrobeat is now recognised all over the world. This is a good development for Nigeria as it shows that we are developing musically. I also advise all my colleagues to continue to look beyond Nigeria and Africa.
Why did you decide to hold your white wedding in Lagos unlike some of your colleagues who did theirs outside the country?
People who are very familiar with me know that I am a man of the people. Most of my fans and friends reside in Nigeria and I want them to be part of my special day.
How did you meet your wife?
I met her at a show in Nigeria. I had just returned from a tour in 2016 when I was hired by MultiChoice to perform at an event. When I was backstage with Daddy Showkey and other colleagues, she was the one attending to the needs of everyone. Despite her beauty, I also liked the way she related with the artistes at that event. I was far from her, so she didn't notice I was observing her.
After my performance, they invited us upstairs for a certain Nabila Fash's birthday. I didn't really show interest because I was tired and I didn't know she was the one. When I saw her pictures the following day, I wished I had attended the party. The event lasted for five days; we moved from one place the other. I knew she was a nice lady and I felt terrible that I didn't honour her birthday invitation.
We later met backstage at the next day's event. The first event was held in Port Harcourt while the other was in Enugu. I introduced myself to her and she did the same. From the outset, she knew I wanted something from her. She told me she was not my kind of person, but I should let her know what I wanted.
When I told her I wanted to marry her, she thought I was joking. She said she knew Oritsefemi's music but didn't know the person behind the music. She said she needed to know me more before she could say a word.
To cut the long story, she thinks I am down-to-earth regardless of the fame and she feels she can handle me. She had already taken her time to know me more before she started hearing negative things about me. All that she later heard didn't change her perception of me.
How did a street boy get to convince an educated lady like her?
Most women are very intelligent. But I have always told God that among these intelligent ones, I need just one to stand by me for the rest of my life. I think she saw that I was sincere to her from the beginning. I am always truthful to her and she is always truthful to me.
Are you satisfied with the performance of your last album?
Inasmuch as I don't want to praise myself, when it comes to the production of albums, people always embrace my albums. I prefer releasing albums than singles because I believe my music cuts across the country and some fans don't listen to radio stations or have access to the Internet. All they do is buy albums.
Even before I drop an album, marketers always approach me. Though the sales of albums have dropped hugely in Nigeria, I still make money from it. You will always see my albums everywhere, even in traffic.
Apart from music, do you make money from other sources?
I am an entrepreneur, but I prefer to keep that side of me private. I believe some parts of me need to be kept secret. Already, people know a lot about me; I even think my name is bigger than me.
Is it true that you were evicted by your landlord?
Where are you right now? People believe most of these rumours because they don't have a personal relationship with me. I'm always indoors except when I have a place to go. They only see me on stage or on their television screens. I can't be telling the public everything about my life because I want to prove that I am not broke or that I was never evicted from my house. I feel the rumour emanated from people who are close to me. Everyone cannot be happy with you. Whenever I am with my friends, I try to advise them on how to move forward. They know that I don't like to be static. I'm a competitive person; I want to be ahead all the time. So, if anyone wants to move with me, he must be ready to move whenever I am moving.
Do you still visit Quilox nightclub?
I have not been to Quilox since the fight I had with them. I don't even plan to go there because I don't want problems for myself. If anything happens to me at the club, people would ask why I went to a place where I'm not welcomed or wanted. I am as free as a bird, but I watch my steps too.
I am not just happy with the club. I don't like it when you treat people differently because some are wealthy and the others are not. We should respect human beings because money goes and comes. The person who doesn't have money today may have tomorrow, while the person who is rich today may be poor tomorrow. That is my philosophy.
They didn't even show any remorse after they snatched my gold chain worth N8.5 million. I lost the chain that day. Till date, nobody from the club has talked to me about it. It will be a joke if I expect them to return the money, but at least, they should show me some respect.
I will always insist that what they did to me was totally wrong. They treated me as if I was a nobody and made me look like a terrible person. I didn't take any legal actions because I don't like trouble. Whether the management agrees with me or not, the club has lost its relevance and it is simply because of how lowly they treat customers.
Even God is not happy with what they did to me. I have challenged the club to upload the pictures of what they did to me, but they didn't. I still insist that if they dare upload the footage, it is the end of the club.