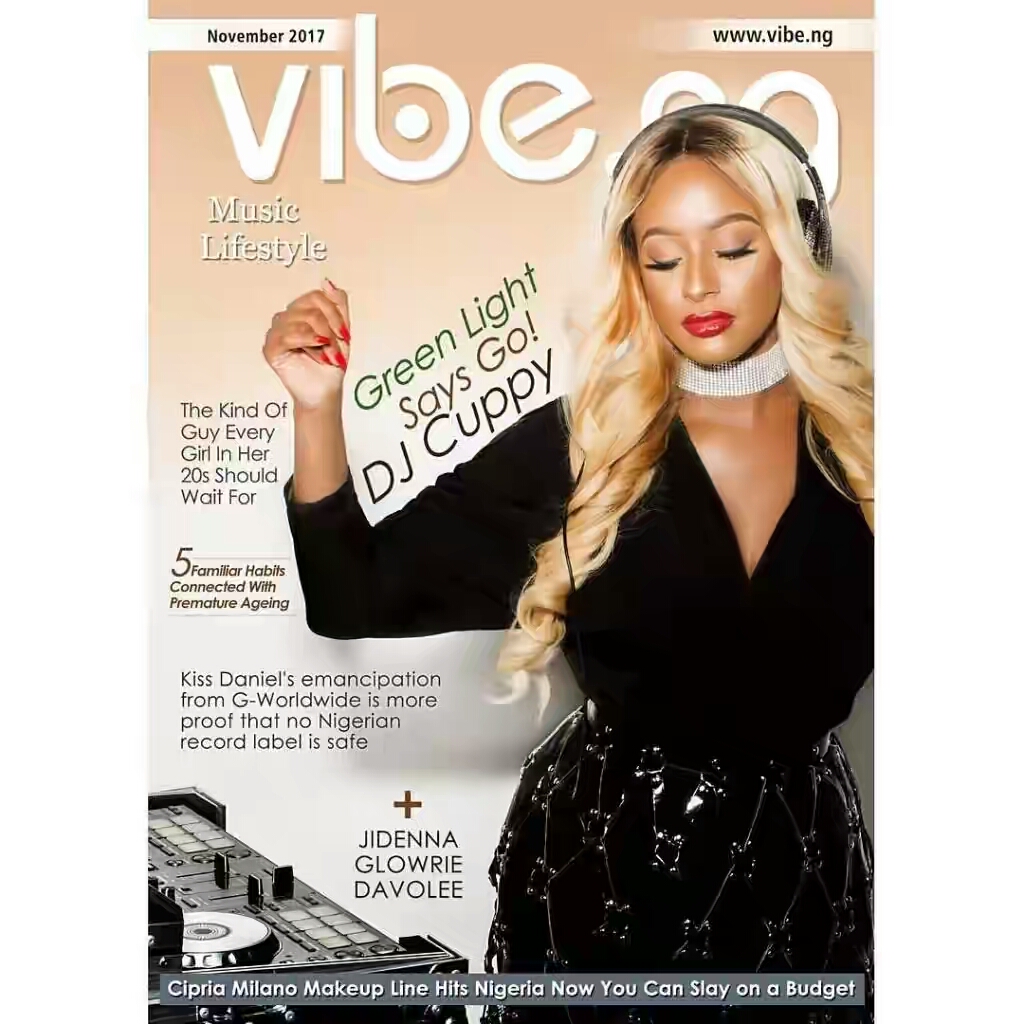 Billionaire daughter, Ifeoluwa Otedola popularly called,

Dj Cuppy

is the cover star of the November issue of Vibe Magazine.
The talented music star and her siblings have always been in the eye of the media and one of the common comments made about her achievements has been the privilege of being a tycoon's daughter.
In her interview with the magazine, she talks about how she would not apologise for being from her family. Read excerpts from her interview below.
On her family's fame and how it affects her:
I would never ever apologize for what family I'm from and if anything, I can use my own opportunity to create more opportunities for others. I'm actually a hardworking young woman that has a passion for DJ-ing and that message has taken me a lot of years to come through. I'm still working on it, but I feel like, finally my work ethic is starting to speak for itself.
On her "Green Light" collaboration with Tekno:
"Green Light" is my original song. I came out to the market with a song called "I love my country" which was a remix, but "Green Light" is really me not hiding behind anyone's record. Tekno and I wrote the song together, produced it, came up with it and I'm so proud of it. For me it's such a breath of fresh air. Regardless of how well the song does- and it's doing very well- I'm so proud that I decided to take a risk. I'm singing on it which is a new thing for me. I love the video, I just love everything about the song, Regardless of it being my song, it's such a jam. I fall in love with it every time. Every time I hear it, I feel refreshed.
On working with Tekno:
Tekno is an artiste that I've always wanted to work with. If he's not playing the drums, he's playing the guitar or he's playing the piano. I've always admired him. I literally cannot think of a bad Tekno song. He's always working on epic stuff. He's just grown from strength to strength and as far as my debut single, I couldn't think of a better artiste to kick it off with.
On the disc jockey business in Nigeria:
I feel like DJs are completely underrated, but then having said that, DJs are now getting the recognition they deserve,after so many years of playing artistes' music, supporting artistes and breaking their records. Now, us DJs are taking that limelight that we've worked so hard for. You know there's people like uncle Jimmy Jatt who really started this idea of a DJ being a brand, not being hidden behind the scenes or in a corner in a room and there's amazing people like Spinall now really taking that force. For me it's really exciting. As a female, I feel like we can take that branding force to another level. I could not think of a better time. When you think about how big African fashion, films, music and creativity in general is now globally, I couldn't think of a better time to be a female DJ from Nigeria.
On affluence getting in the way of love:
I feel like for me, it's hard to say because I've grown up in an environment where I've looked at people because of their ambition not because of what they have. A lot of my friends are go- getters. We come from different backgrounds and it's almost like I'm a bit of a disappointment in that sense because I don't act like someone they expect me to act like. I've dated people that have grown up completely different from me but the thing they've always had in common is that they've been ambitious. They've had careers, they've had very serious goals. So I don't think that affects anything.