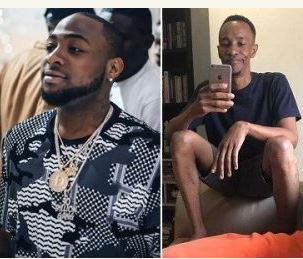 Superstar singer,
Davido
honoured the invitation of Lagos Police Commissioner Edgal Imohimi yesterday when he showed up at the command headquarter to state his own version of the murder case.
An insider said just as Davido showed up for questioning, his manager, Asa Asika and workers were arrested by police and whisked to Area A Command in Bariga where they were briefly detained.
An eyewitness who saw how the deceased died said Tagbo, Davido and others were playing a drinking game when he allegedly passed out.
The source said the drinking game idea started with Davido who promised to give a brand new iPhone 8 and N200,000 Naira to the winner.
Tagbo who was serious about winning the huge prize reportedly overdosed on alcohol and suffered liver damage.
The source however blamed Davido for watching the deceased as he drank himself until he passed out.
"After he passed out, I think…I don't know what happened…the CCTV showed that Davido was asking him to come into his car but I think they he (Tagbo) didn't want to enter into Davido's car, then they forced him into his own car…then there was this blackout. Now they don't want to tell us how he got to the hospital. That is the question. How did he get to the hospital? Because the police met his car and his body in the hospital with no one"
– the eyewitness added
The witness said Davido has a serious case hanging on his neck as many people saw him while ordering his workers to bundle the deceased in his car.