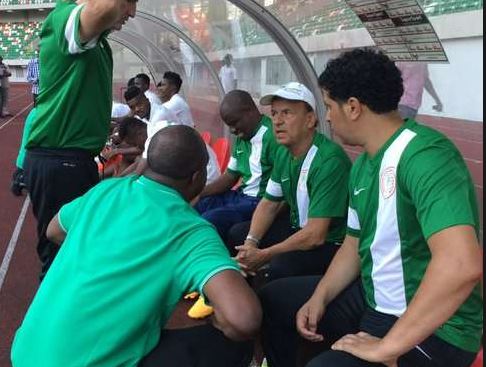 Coach Gernot Rohr has warned against another pay strike at the World Cup if the country hoped to improve on their previous outings at the global tournament.
Nigerian national football team German head coach, Gernot Rohr celebrates after the FIFA World Cup 2018 qualifying football match between Nigeria and Zambia in Uyo, Akwa Ibom State, on October 7, 2017.
FIFA At the 2014 World Cup, the Super Eagles skipped a training to protest the non-payment of bonus for qualifying for the tournament forcing the country's sports minister to fly out by private jet to pay them almost $4 million cash in Brazil. Rohr said he believes the three-time African champions can improve on their best World Cup performance of a Round of 16 by better and early preparation as well as ensuring money issues are sorted out well in advance.
Nigeria will be paid a total of $12.5 million by FIFA for qualifying for Russia 2018 with $2.5 million of this amount paid for the Eagles to prepare adequately for the football showpiece. They will earn more cash should they reach the knockout rounds of the tournament as they have done in 1994 and 2014.
Nigeria have so far used a total of 37 players for the qualifying tournament for Russia 2018 and they are all entitled to a share of a qualification bonus. Rohr, a 64-year-old Franco-German coach, said he believes that with a fully prepared and united team both on and off the pitch, Nigeria can expect their best performance at next year's tournament.
"If we want to do something at the World Cup, we have to prepare well," he said. "We want everybody who wants to be part of the team to show the same solidarity we currently have in the team. "More importantly, we don't want the issue of money to be a problem.
"The issue of bonuses and allowances, which are the usual African problem we see during the World Cup, must be avoided. "Such issues will be bad for our preparation. "I have told my officials and the federation president that all (such issues) be cleared before the start of the competition."
–
–
–
–
–
Source: (Vanguard)