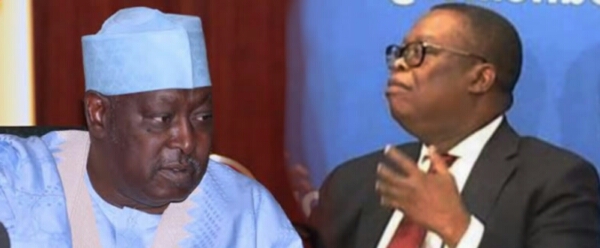 Buhari
sacks suspended SGF, NIA boss
President Muhammadu
Buhari
has sacked the suspended Secretary to Government of the Federation (SGF), Mr
Babachir Lawal
, and the Director-General of the National Intelligence Agency (NIA), Mr Ayodele Oke.
The President has appointed Mr Boss Mustapha as the new SGF.
Special Adviser to the President on Media and Publicity, Mr Femi Adesina, said in a statement that the President
Buhari
took the decision after studying the report of the panel headed by Vice President Yemi Osinbajo, which investigated allegations of corruption against both men.
"The President accepted the recommendation of the panel to terminate the appointment of Mr Lawal and has appointed Mr Boss Mustapha as the new Secretary to the Government of the Federation. The appointment takes immediate effect," the statement read in part.
"President
Buhari
also approved the recommendation to terminate the appointment of Ambassador Oke and has further approved the setting up of a three-member panel to, among other things, look into the operational, technical and administrative structure of the Agency and make appropriate recommendations.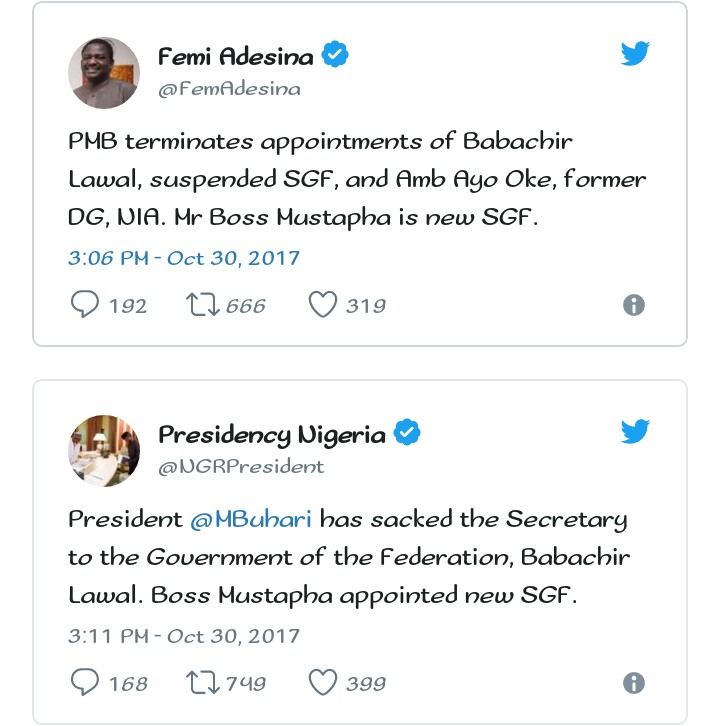 Monday's decision by President
Buhari
comes more than two months after he received the report of the probe panel.
Vice President Osinbajo who headed the committee that probed both officials had submitted the report to the President on August 23.
The President suspended Mr Lawal and Mr Oke in April after both of them were hit with corruption allegations.
Mr Lawal was suspended for allegedly violating the law and due process in the award of contracts under the Presidential Initiative on the North East (PINE).
On his part, Mr Oke was suspended after the Economic and Financial Crimes Commission (EFCC) discovered a huge amount of foreign and local currencies in a residential apartment in the Osborne Towers, Ikoyi, Lagos.
Days after the EFCC made the discovery, the NIA had claimed that the funds belonged to it and that it was meant for a covert operation. Meanwhile, the apartment in which it was found was later discovered to belong to Mr Oke's wife.
In suspending both men, the President set up a three-man panel headed by the Vice President, with the Attorney-General of the Federation and the National Security Adviser as members, to investigate the allegations against both men.
The committee was given 14 days to complete its investigation and submit its report to the President.
It was, however, unable to submit the report on schedule as the President travelled to London on May 7 for medical attention, a trip that kept him away from the country for more than three months.
The delay in taking a decision on the fate of both men had attracted criticism for President
Buhari
and his administration's anti-corruption war.
-channels