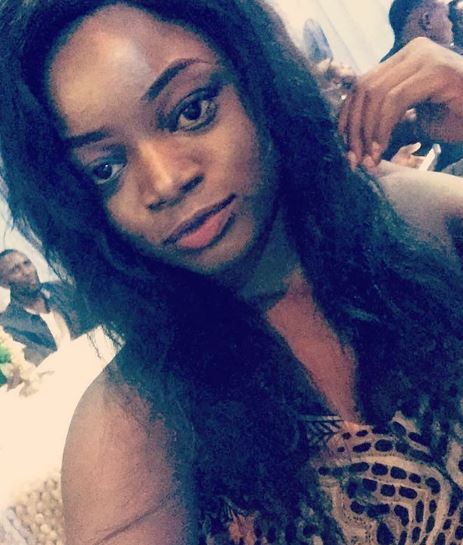 It appears that the menace of the officials of the
SARS
Police Officers has reached an all time high as several individuals have taken to social media to call out operatives of the Special Anti-Robbery Squad over incessant abuse and harrassment.
A Nigerian lady, Kachi Anifela took to her Instagram to add to the list of people who have called out
SARS
officials. She claimed they sexually harassed her, called her a yahoo girl and prostitute after they forcefully pushed her into their truck while on her way to get dinner in Ilorin.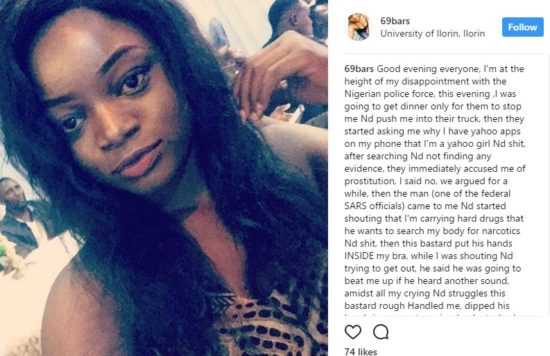 According to her, one of the officers also accused her of hiding hard drugs and insisted on searching her. He put his hand inside her bra and dipped his hand inside her underwear saying that they usually find drugs hidden there. Below is how she wrote it via her Instagram page:
Good evening everyone, I'm at the height of my disappointment with the Nigerian police force, this evening ,I was going to get dinner only for them to stop me Nd push me into their truck, then they started asking me why I have yahoo apps on my phone that I'm a yahoo girl Nd shit, after searching Nd not finding any evidence, they immediately accused me of prostitution, I said no, we argued for a while, then the man (one of the federal SARS officials) came to me Nd started shouting that I'm carrying hard drugs that he wants to search my body for narcotics Nd shit,
then this bastard put his hands INSIDE my bra, while I was shouting Nd trying to get out, he said he was going to beat me up if he heard another sound, amidst all my crying Nd struggles this bastard rough Handled me, dipped his hands in my pant , saying (no be today I start to dey see drugs for girl bra or yansh) I begged to call my mother and they refused, seized my phone,One man even came down from his car to beg for me Nd they chased him away saying he should mind his business. I cried bitterly, this is one experience that' has demoralized me the most. They were federal SARS, their patrol was at pipeline at about 9pm. I hate the police!!! #stopharrasmentSARS