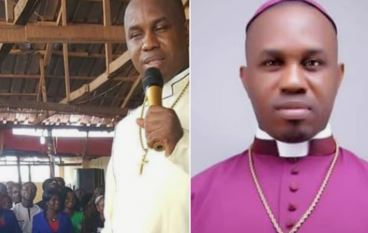 The Police Command in Enugu says a cleric, Bishop Ginika Obi, recently arrested over his alleged advance fee fraud involving over N500 million, has been remanded in Enugu Maximum Prison. The spokesman of the command, Mr Ebere Amaraizu, disclosed this in a statement issued in Enugu on Tuesday.
The bishop whose church/office is at Km 111, Enugu-Port Harcourt highway, Enugu, had been alleged to have tricked many people to pay huge amounts of money to him. He was said to have claimed that he would help his victims reap bumper financial dividends in return.
Amarizu said Obi was arraigned on Oct. 11 in an Enugu Federal High Court presided over by Justice A. Liman. He said the suspect had been in prison custody since Oct. 12 and that further hearing on his case had been scheduled for Nov. 1 and Nov. 2.
"His offences ranging from conspiracy and advance fee fraud were committed in conjunction with others now at large.
"On Oct. 11, he took his plea after his 82 count charges of conspiracy and advance fee fraud was read to him.
"He was later remanded in police custody based on the plea of his defence counsel to be brought to court on Oct. 12 for further hearing.
"He was later remanded in prison custody as he could not meet his bail conditions,'' the command's spokesperson said.
Amarizu said that the suspect's arrest and arraignment followed several petitions against him and others now at large for allegedly swindling unsuspecting members of the public. He said that the bishop and his alleged cohorts disappeared without traces until the command, through intelligence, closed up on him in a hotel in Enugu. (NAN)