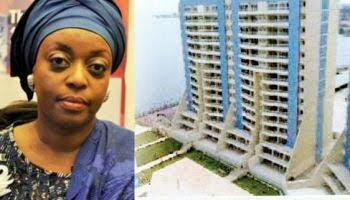 The Federal High Court in Lagos on Wednesday ordered the permanent forfeiture of 56 houses linked to a former Minister of Petroleum Resources, Mrs.
Diezani Alison-Madueke
.
The houses, located in Lagos and Port Harcourt, were said to have been acquired by the ex-minister between 2011 and 2013 using front companies.
The Economic and Financial Crimes Commission claimed that Diezani paid $21,982,224 for the properties, adding that it believed that the funds were proceeds of crime.
The anti-graft agency listed the properties to include 29 terraced houses comprising eight four-bedroomed penthouse apartments, six three-bedroomed apartments, two three-bedroomed maisonettes, two twin bedroomed apartments and one four-bedroom apartment.
The permanent forfeiture order was made by Justice Abdulaziz Anka.
-Thepunch