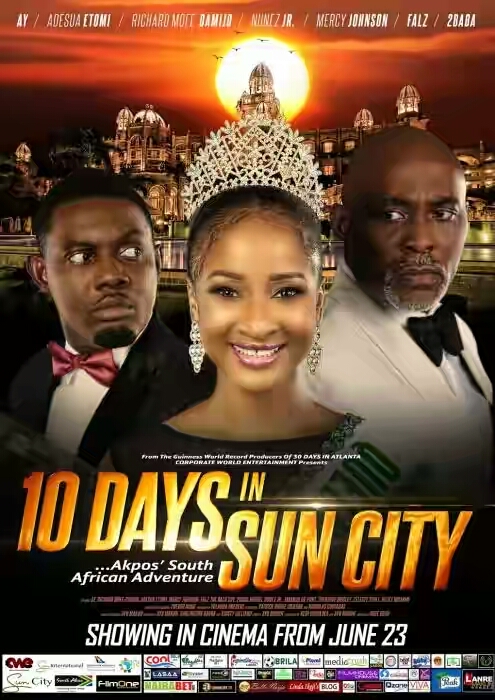 AY Makun was a guest on "CNN Marketplace Africa," and the comedian discussed some of the obstacles faced by independent producers in Nollywood.
The Nigerian film industry is experiencing a significant increase in investments and popularity. AY explained that this is the result of Nigerians realizing that money can be made from Nollywood:
People are now beginning to know that you can make money from our movies. Investors are starting to come in and collaborations between different production outfits are beginning.
When asked how the country's recession impacted business, AY revealed even his company suffered:
It affected the last movie I did, 10 Days in Suncity, because of the exchange rate. I was shooting in Nigeria and South Africa so the exchange rate was crazy and that affected finance.
However, Nigerians seeking a short respite from the realities of the recession continued to spend money on movies,
AY explained:
Recession or no recession, Nigerians want to like a product and they are ready to go out there and see it – it's part of the relief for them.
He moved on to outlining what it takes to produce a financially successful Nollywood movie
The secret is not for you to just jump in because you think people are making money. You need to do your research. You also need to have an understanding of finance.
The show heard how financing films as an independent producer takes confidence.
[As] I have other comedy platforms, maybe the proceeds from doing standup will divert into this new line of business, which is movie making… And I'm a risk taker. I do not ask for any sort of funding.
Another challenge which producers like the comedian experience is film piracy. AY told the programme how this has impacted the filmmaking business:
I have lost so much [money] from [the piracy of] 30 Days to A Trip to Jamaica. This has also affected the industry – some producers believe that if they spend so much and pirates come, they are going to [have a] huge loss.
But if they spend less and they make a little money before the thieves come, it will be fine. This is affecting the quality [of the films being made].
Nigeria's lack of cinemas also generated distribution issues for producers
. He explained:
Distribution is good, but for us to really enjoy cinematic movies, [we need] more cinemas in Nigeria. Lagos alone should have 30 or 40 cinemas.
Such challenges mean that producers must seek alternative ways of promoting their work. AY said he promotes his films through social media and that this strategy pays off.
My voice is my social media platform.
Anytime I do a film, the very first port of call is to visit my social media platforms and tell the people what is coming up. The anticipation is always there.
That's why it's always easy to see that our opening week for our films are usually the highest.
Other online platforms, such as iROKOtv and Netflix have partnered with some Nigerian movies, however such platforms appear to be yet another challenge for independent producers aiming for success in the industry. The problem, according to AY , is the way Netflix pays for films.
Netflix stretch payment [over] five years. I've invested and done the movie, all I need is quick cash to go back and do another one. It may be nothing for big Hollywood producers, but for people like us… we need the money.