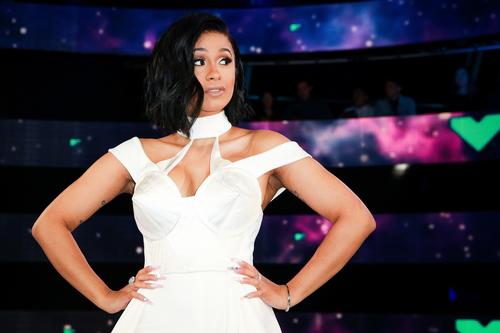 Cardi B just made history as the first female rapper to earn a solo No. 1 on the Hot 100 in 19 years with "Bodak Yellow." Obviously, it's a reason to celebrate, and Cardi did just that with a blowout at the Atlantic offices Monday following the announcement. Balloons, sparklers, gold plaques, and lots of champagne were present at the event. One clip from Angela Yee reveals that Cardi flew in from Florida for the occasion, so of course, it was only right for her to make a speech.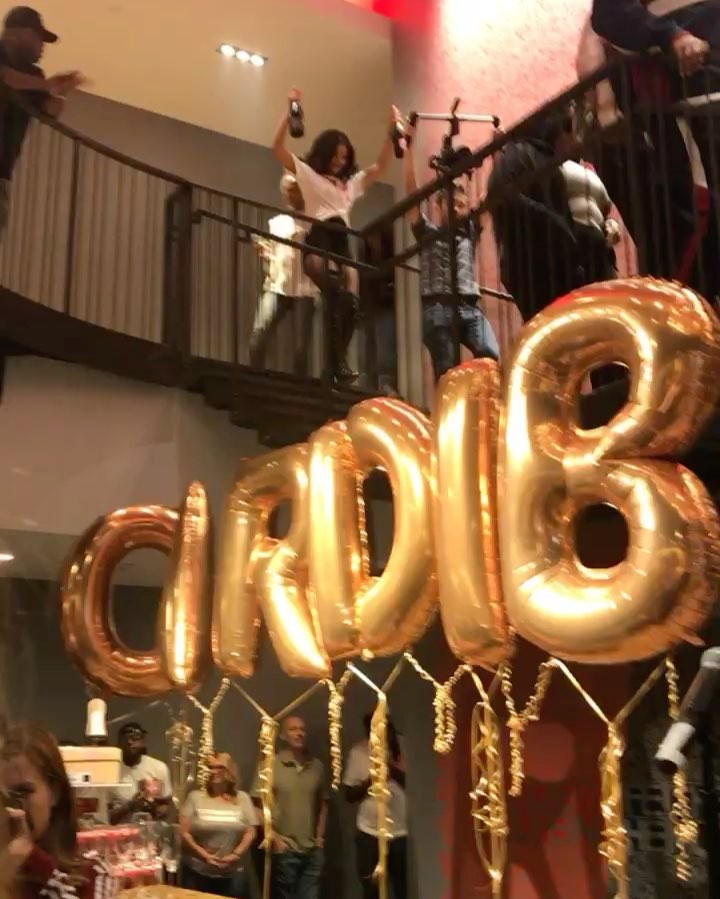 Yeah bitch! I hit number one, what's good?!" said Cardi. "Thank you everybody. I'm very happy, I'm very honored. Especially because my family's here. At first, I kept coming to the label like 'why is my shit not playing on the radio? I do not understand what's going on!'. They're like ' you gotta keep working hard to get that big record.' 'oh, I'mma give y'all a record!'"
She went on to reveal that she didn't previously realize the importance of charting on the Hot 100. "I don't really know how the music industry works," she said. "All I feel is 'well, if everybody listens to a song, then it's poppin'….. nooo. If it's not on Billboard then it really don't matter." By that measure, "Bodak Yellow" is the most important song in the world right now.
"I never really saw that I was gonna hit No. 1, but once I was that close, I was like 'oh my God I gotta do it!' she continued. "For me to know that today I made history… Bitch!"
"
Bodak Yellow" is the second solo Hot 100 number one from a female artist following Lauryn Hill's "Doo Wop (That Thing" in 1998. She's also the first female soloist to go No. 1 with a debut single without accompaniment since Meaghan Trainor's "All About That Bass" in 2014.
Congrats again to Cardi B on this huge money move.