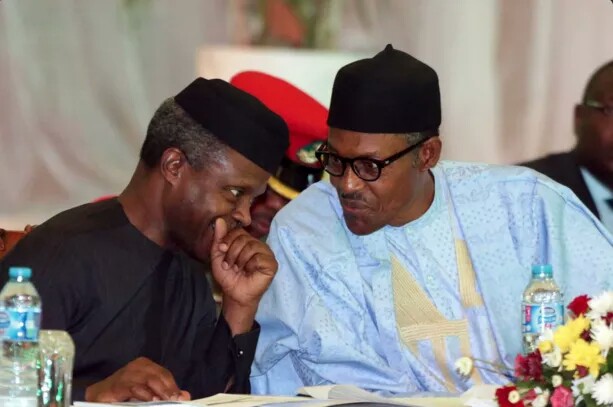 The Nigerian economy has rallied back into growth after suffering contraction for five consecutive quarters. Official results from the National Bureau of Statistics (NBS) ) has shown that the economy grew at 0.55 per cent in the second quarter (Q2) of 2017, effectively removing
Nigeria
out of recession.
FINANCIAL WATCH reported earlier Latest survey by Bloomberg which suggest that top Africa's economy –
Nigeria
and South Africa who has been battling with dwindling economy may be on her way out of recession. According to the survey,
Nigeria
's GDP likely grew 1.6 per cent from a year earlier after contracting for five straight quarters.
The Q2 2017 growth rate of 0.55 per cent (year-on-year) was 2.04 per cent higher than the rate recorded in the corresponding quarter of 2016 (-1.49%) and higher by 1.46 per cent points from rate recorded in the preceding quarter, which was revised to –0.91% from –0.52% due to revisions to crude output for March 2017.
According to the preliminary results for the second quarter of the year,
Nigeria
's economic recovery was driven principally by the performance of four main economic activities comprising oil, agriculture, manufacturing and trade.
The results revealed that Oil GDP recovered significantly from -11.63 per cent in Q2 2016 and -15.40 per cent in Q1 2017 to 1.64 per cent in Q2 2017.
But while Oil GDP expanded considerably in the second quarter of 2017, Non-oil GDP only grew at 0.45 per cent, down from 0.72 per cent in the preceding quarter and -0.38 in the corresponding period in 2016.
It also showed that agriculture continued its strong and positive growth, which it had maintained throughout the recession, growing by 3.01 per cent in Q2 2017, from 3.39 per cent in Q1 2017 and 4.53 per cent in Q2 2016.
Manufacturing retained its positive growth for the second consecutive quarter in Q2 2017, growing at 0.64 per cent compared to 1.36 per cent in Q1 2017 and -3.36 per cent in Q2 2016, while trade which has a dominant share of GDP remained negative at -1.62 per cent, but the contraction in the sector decelerated from the -3.08 per cent recorded in Q1 2017.
Furthermore, electricity and gas and financial institutions sectors also recorded strong growths, with electricity and gas growing by 35.5 per cent, compared to -5.04 per cent in Q1 2017 and -10.46 per cent in Q2 2016 and financial institutions growing by 11.78 per cent in Q2 2017, compared to 0.60 per cent in Q1 2017 and -13.24 per cent in Q2 2016.
The results also showed that the industry sector grew positively by 1.45 per cent in Q2 2017, after nine consecutive quarters of negative growth since Q4 2014.
As a percentage of GDP, services retained the giant share of GDP at 53.73 per cent in Q2 2017, down by 1.94 per cent points (55.67 per cent) from the first quarter of 2017 and 54.80 per cent in Q2 2016; industries accounted for 23.31 per cent of GDP, compared to 22.90 recorded in Q1 2017 and 22.65 per cent in Q1 2016; while agriculture accounted for 22.97 per cent of GDP in the quarter under review, compared to 21.43 per cent in Q1 2017 and 22.55 per cent in Q2 2016.