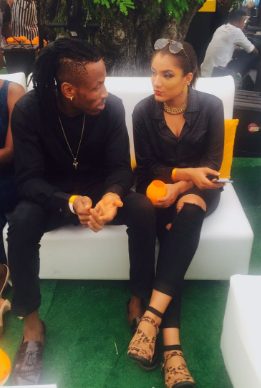 Looks like singer,
Mr 2kay
is having a hard time letting go of BBN'S
Gifty
, we reported some time ago he said Horoscope broke his relationship with her. Of which
Gifty
said it was due to his attitude.
He has now revealed in a recent interview with Hip TV that he made
Gifty
who she is today. Read what he said below;
"
Getting to where she is today, I supported her, all glory to God. Even when I got her in my video it was to support her, to see that she grows from where she was to another level".
He also went further to say he opened all her social media accounts for her.
"I opened her Instagram for her, I opened her Snapchat for her, I opened her Twitter page for her. The only thing I didn't open for Gifty was Facebook. I did all that for her to support her. Few days ago when someone needed her for something I gave her number but if she was in my position she would not give my number out".
He also claimed
Gifty
was living with him before she left for Big Brother.
"It was from my house to Big Brother, she came back from Big Brother back to me house"
.
He further confirmed that they are no more together and that he has no issues with her.